Post by The Bard Darkharp on Jan 26, 2009 13:02:20 GMT -5
Geryon
[/center]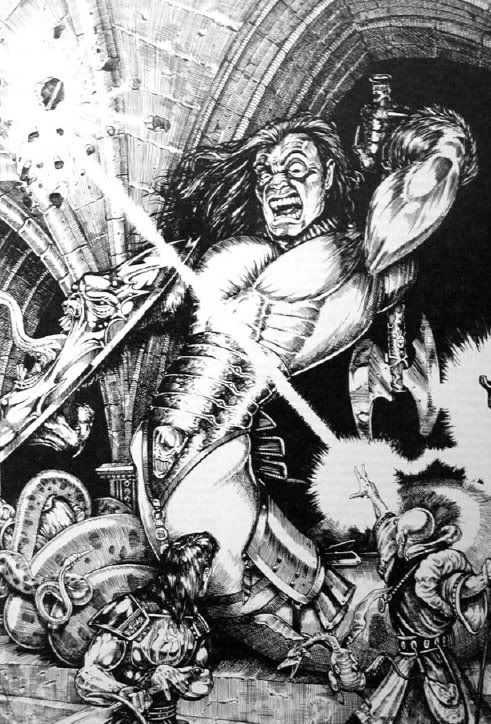 The Lord of Filth, Deposed Lord of the Fifth, The Wild Beast
Geryon was once Lord of Hell's Fifth Layer. During a period called the Reckoning, Asmodeus himself ousted him. This turn of events seems strange to those who know the facts, since the Reckoning came about when the lords of Hell all turned on their master, Asmodeus—all but Geryon, that is. The only loyal lord was deposed, while most of the mutinous lords went unpunished. Some speculate that this move represented some sort of strange reward from Asmodeus—Geryon certainly did not see it that way—and others assume the former archdevil's loss of rank is only temporary. If Geryon has his way, the latter estimation will prove correct.
Although some call him the Serpentine Lord, Geryon's enemies also name him Lord of the Filth. This label obviously plays off his former "Lord of the Fifth" title, much like Baalzebub's "Lord of the Flies/Lord of the Lies" moniker. However, such a reference is ironic in Geryon's case, for the archdevil despises uncleanliness and dirt, demanding that servants keep himself and his surroundings immaculate. This need seems at odds with the devil's otherwise bestial appearance and nature; some think him a little mad.
The archdevil dwells in a secret iceberg fortress called Citadel Coldsteel that floats in a frigid sea. Its dangers combined with its sterile appearance encourage the few who have seen it to compare the place to a surgeon's scalpel.
In appearance Geryon resembles Mammon's current form: that of a huge serpent with a muscular humanoid torso sporting two large arms and a massive humanoid head. For all his bizarre appearance, Geryon's face and features seem strangely attractive and handsome in a raw, animal sort of way. Geryon's symbol is a menacing bull's head surrounded by a serpentine border.
The Goals of Geryon
Geryon's single-minded goal is to regain his former position. Although he hates Asmodeus for taking away his authority and power, he does not openly oppose his old master. Instead, he still works for him, hoping his performance will result in his reinstatement. In fact, Asmodeus likely deposed Geryon in the first place because he knew the archfiend's coveting of his former position would make him more easily to manipulate and use for some great task at a later date.
Most of the time Geryon plots and schemes against Levistus, current ruler of Hell's fifth layer. Slowly and secretly the resentful ex-lord raises an army of disaffected or mercenary devils. Geryon's secret army is vast and powerful, but not yet ready to begin a revolt against Levistus. If Geryon ever regains his former position, his personal power likely will increase quickly (more Hit Dice, greater spell-like abilities, and so on).
Source: The Book of Vile Darkness Web Enhancement - Yet More Archfiends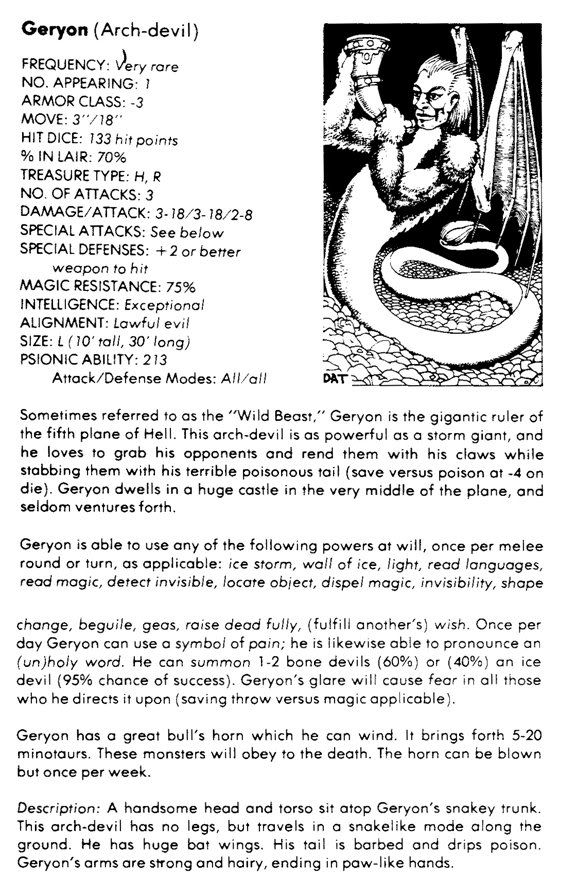 Source: Monster Manual 1st Edition