Post by catmage on Sept 25, 2008 17:56:29 GMT -5

Bel
The Lord of the First, Warlord of Avernus, The Pretender
Crimson scales cover this large fiend, from its bestial head to its clawed toes. From its back spread great batlike wings. Foul green venom drips from its teeth, sending up streams of smoke whereever it falls. Cinched around its waist is a belt of a dozen shreiking angel heads, their necks severed by the massive flaming sword he creature holds in his clawed hands
Servants, Enemies and Goals
Cunning, cruel, and perhaps one of the greatest tactical minds of the Nine Hells, Bel is a rising star. Bel deals in treachery, double-cross, and ambush, using his keen mind to anticipate the treachery of his rivals.
Bel has yet to stabilize his domain. All efforts to establish an alliance with other Lords have come to nothing. Neither Mephistopheles nor Baalzebul trusts him, since he so readily betrayed his own mistress. Of course, any of the Lords of the Nine would have gladly dethroned Zariel themselves, and many had agents in place to do just this, but the coup wiped out most of their operatives. Though they have refused Bel's efforts at peace, so far none of them have moved against him, because they value his role as a buffer against the demons, as well as his alliance with the Dark Eight.
Bel fears reprisals, but he has little opportunity to protect his flank since invading armies of demons constantly push against his defenses. He spends most of his time waging the war against the Abyss, taking a personal hand in overseeing the construction of fortifications and devising strategies to fight the endless hordes.
He surrounds himself with cornugon warlords and pit fiends, though he suspects their loyalties lie elsewhere. Bel has recently made inroads into forging an alliance with Tiamat, who maintains a domain on his layer. The two have reached an accord and abishai now swell the ranks of his armies.
Of all his allies and minions, Zariel herself offers him the greatest aid. Imprisoned in the bowels of the Bronze Citadel, Zariel languishes under the cruel knives of abaishai torturers that carve off bits of her flesh to feed to their master.
Source: The Fiendish Codex II - Tyrants of the Nine Hells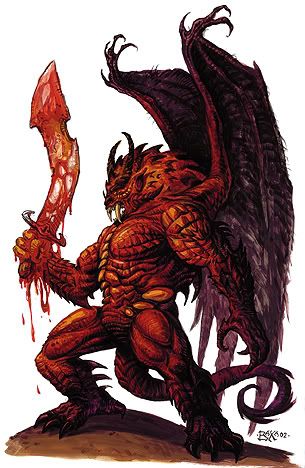 Bel is one of the newer lords of the Nine Hells, currently the ruler of Avernus, the first layer. He is the only archdevil who spends more of his time worrying about the Blood War than hell's own politics. Although he rose through the ranks based on his own skill and power (and victories over the demons), the former pit fiend enjoys the support of none of the other lords of hell. Bel is, however, held in high favor among the Dark Eight, and that is not a bit of influence to be overlooked. It is thought that Zariel, the former ruler of Avernus, is still kept within Bel's Bronze Citadel, where Bel draws off her power to extend his own.
Bel resembles a pit fiend with vast bat wings. His fangs drip with green liquid, and red scales cover his hulking body. His sword blade has a jagged edge and glows with heat. The symbol of Bel is a fanged mouth biting down on a sword's blade.
The Goals of Bel
Among the archdevils of hell, Bel is often called the Pretender. It is thought that Asmodeus allowed his coup only because it meant one less scheming lord. Bel would be so busy fighting the demons, the rumor says, that he could not scheme against his betters, and most important, his patron.
Bel simply wants to secure his position. He has made overtures to ally himself with Baalzebul and Mephistopheles, but they have rebuffed him. His acts of treachery against the old lord of Avernus, Zariel, are too fresh in their minds.
Source: The Book of Vile Darkness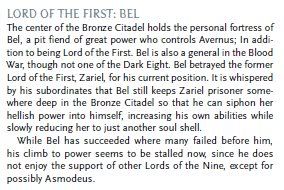 Source: Manual of the Planes

Source: Guide to Hell 2nd Edition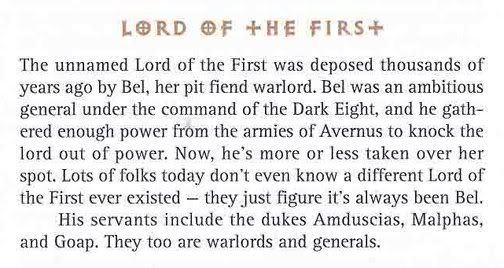 Source: Planescape - Faces of Evil: The Fiends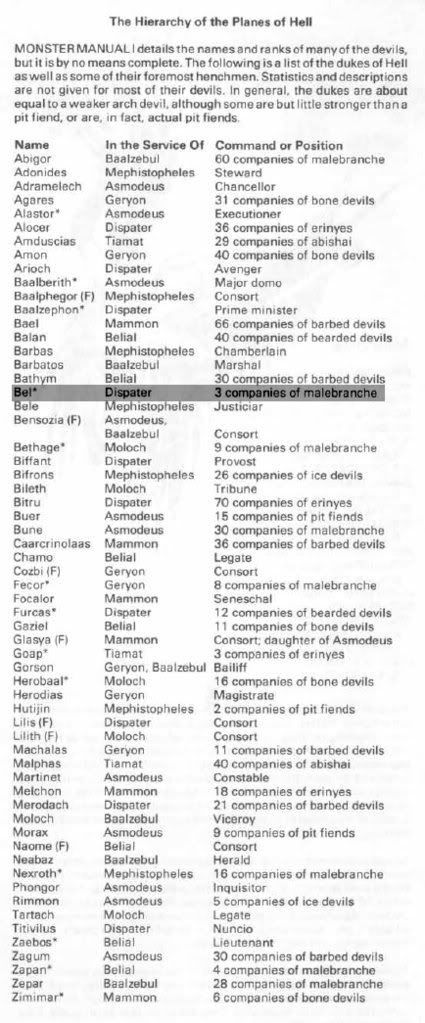 Source: Monster Manual II 1st Edition