Post by Masterbard Alyster Darkharp on Jan 18, 2009 0:49:04 GMT -5

Annum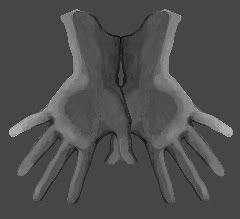 All-Father, The Prime, The Great Creator, The Fertile Progenitor of Worlds
Greater Deity
Symbol: Two hands, wrists together and fingers pointing down
Alignment: Neutral
Domains: Knowledge, Magic, Plant, Rune, Sun
Portfolio: Giants, creation, learning, philosophy, fertility
Worshipers: Giants
Worshipers Alignment: Any
Favored Weapon: Unarmed strike
Home Plane: Jotunheim (Hidden Realm)
Annam All-Father (ON-urn) sits atop the Ordning. Rumored to be the son of a conjunction of Chaos and Law, he is the progenitor of the Ordning and all the giant breeds. All that giants are and will become is owed to his influence. All that giants do is in his service. Annam has a dual nature. On the one hand he is wise, learned, and philosophical. On the other, he is lustful, instinctive, and unpredictable. Equally notorious are his insight and jealousy, wit and impatience-he is proud of what his sons have accomplished but still yearns for the day they will accomplish even more. He foresees the future but cannot prepare for it.
Annam came across the planet of Abeir-Toril at a time before the existence of dwarves, elves and humans. He met and married Othea who took the form of a mountain on the edge of the Cold Lands. They had children, who were not Annam's first (he had previously had immortal children), but they were Annam's first terrestrial children.
Like most of the giant gods, Annam is seen in a different light by each of his worshipers. Hill giants imagine him as an enormous glutton and master of the grandest pantry in the multiverse. Stone giants envision him as an unparalleled artist. Frost giants see him as a glorious reveler and warrior.
Role-playing Notes:
Annam personifies his sons. defining traits to an almost unbelievable extreme. He is remarkably selfish, sees all others as hopelessly inferior to himself, and remains wholly uninterested in the passage of time. (He has been known to take a thousand years to ponder the simplest of queries.) Once he has made up his mind, he will never change his opinion, even in the face of new evidence or further developments.
Annam's Disappearance
Several thousand years ago, Annam promised Othea that he would leave Toril until his sons restored the glory of Ostoria. So far, he has honored this agreement. As a consequence, he cannot grant spells to his priests, he is usually unavailable for commune, and he cannot normally manifest omens. So great is Annam's power, however, that he is sometimes capable of reaching out to his flock from his distant realm of exile (a demiplane of Jotunheim). All giant priests (not only those dedicated to Annam) who attain at least the 10th level of experience will receive a single precognitive vision from the All-Father at some point in their lives. Normally, this vision comes during a holy festival and reveals a coming truth of great importance to the giants as a whole. Priests who experience the vision have no doubt as to where it came from and why it is significant.
Annam sits alone in an endless domain called the Hidden Realm. This area is rather like a demiplane or pocket dimension in that no other being can locate or enter it without Annam's permission, and Annam permits precious few visitors. No other beings—not even petitioners— live within the Hidden Realm, and a deep sense of loneliness permeates the place. His great mansion features a crystal tower in which models of stars and planets whirl in perfect, silent motion ( a replica of his Orrery built by Masud's sons) simulating the movements of the universe.
Dogma:
The giants are destined to rule Faerûn; Honor the Ordning and your ordning; Never raise your hand against a brother giant, there must be peace between breeds to see Annam's prophecies to their fruition; Ostoria is the only hope for Toril. Do not fear time; it is the bane of your enemies. Do not underestimate other peoples, but do not allow them to distract you from your destiny.

Gudheim
Annam's vast crystal palace located on the plane of Jotunheim. At its center is a splendid orrery, a model of the planes, stars, and planets that endlessly spins in silent perfection. The model was crafted by the sons of Masud, the first fire giant, to honor the All-Father at outset of the war against dragonkind. Annam has not set foot in Gudheim since he made his pact with Othea, the palace is still occupied by his celestial children, the remaining members of the Ordning. Although it certainly lost something of its luster with the All-Father's departure, the mighty crystal palace is still a sight of almost unimaginable beauty and majesty. Giant priests believe that just before their deaths, particularly pious clergymen are invited to visit Gudheim for one evening to share a repast with the Ordning. Surrounding Gudheim is Jotunheim, the home of the giant heroes. According to ancient legends, the spirits of all giants who die in battle are carried off to Jotunheim by Muspel and Muznir, a pair of Annam's servants who often take the shape of enormous owls. There, they are allowed to pursue their chosen virtues and defend the Ordning for all eternity.
Duties of the Priesthood
Since he disappeared from Gudheim, few giants are directly devoted to the worship of Annam, though all giants revere him. One notable exception is the stormazîn, who acts as a spiritual father to the priests dedicated to all other giant deities.
Rituals:
Annam is directly honored in three ceremonies still practiced by the giants. The first day of the first month of each year sees the Grand Feast of the All-Father. During this celebration, all giants temporarily abrogate their other responsibilities to partake of vast
quantities of food and to celebrate the eventual return of Ostorian glory. Although the ceremony differs somewhat from breed to breed (based largely upon each breed's view of Annam), most tribes demonstrate their unity by dispatching ambassadors to attend each other's celebrations. Typically, the stormazîn honors a favored chieftain by attending the feast held at that chieftain's steading.
Once every two years, the stormazîn holds a special ceremony in Annam's honor to invest new clergymen. This ceremony is typically held in one of the larger tribes' dedicated temples and attended by the chieftains of all the various tribes. A tribe whose temple is so selected by the stormazîn is greatly honored. Once per month, the stormazîn holds a special prayer vigil to honor the All-Father and ask his guidance. Particularly troubled members of the Jotunbrud often visit the stormazîn's shrine in order to attend this ceremony
Customs, Rules, Taboos:
Any priest or shaman of Annam who strikes another giant (willingly or unwillingly) must forfeit his position and undergo divestiture. Anyone who speaks Ulutiu's name at a ceremony honoring Annam must die.
Sources: Faiths and Pantheons, Giantcraft, The Player's Guide to Faerun