Post by FlyingMidget on Jan 28, 2019 14:28:00 GMT -5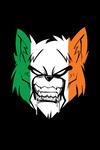 a coat of paint to throw on your armor
. Same with druids. If your god really has no bearing on the way you do things then whats the point exactly?
That paladin over there wields a sword and the other one wields an axe. That one smiles and that one is kind of sad at the moment." But their gods (The thing that is suppose to define them as holy warriors) really are as much part of their rp at that point as clothes. Cause they will always react the same way if staying inside their generic paladin oaths as every other paladin everywhere. I realize very well that rp can help to make two paladins "seem" different but without some kind of bigger difference (dealing with their faith because they are favored warriors of their god)it is making it really all taste exactly the same.
Kind of sounds lame *shrugs*
You're very mistaken.
A paladin of Tyr might focus their attention on law and metting out justice and ensuring criminals don't get away even ending their life if they do not believe they can get them back and into the correct place to be judged. A paladin of Torm is likely to focus their attention on goodness first and foremost they're likely to attempt to capture a foe and tend their wounds if they surrender. A paladin of Kelemvor might dedicate themselves entirely to hunting down undead and those that abuse magic to avoid their natural death. A paladin of Sune might focus on protecting places of beauty and temples while promoting goodness in the general area or tracking down those that have commited criminal acts against such places (hunting down art thieves for example or those that have vandalized such things and fled). A paladin of Lathander might very well promote goodness, inspire hope for a brighter tomorrow or hunt down necromancers and undeath. A paladin of Ilmater is likely to guard their charges (often Ilmater clergy) as they go about tending to the wounded in danger zones.

They can all follow a specific code yet have many varieties of personalities, some paladins may also believe that specific tasks that their deities Dogma supports may also be worth falling for, but such is a very personal decision for them to make.
Druids are actually even more varied, a Malarite for example is likely to slaughter the weaker or diseased animals of a forest to encourage growth rather then stagnation, to keep the game strong. A follower of Talona is likely to spread disease among a similar herd because diseases, parasites, that sort of thing are part of nature. A follower of Mielikki is likely to take said animals into their care, treat them and tend to them until they're strong enough to go about their lives again. A follower of Silvanus is likely to just watch on unconcerned over such petty matters, nature will resolve itself as it sees best.
These are just but a handful of examples for but a handful of faiths and not every example I could give off hand for any one specific faith that puts them at a very different position then other druids/paladins. I hope this is food for thought for those that considered such to be the case.
FM.