Post by The Bard Darkharp on Jan 26, 2009 13:19:02 GMT -5
Rhyxali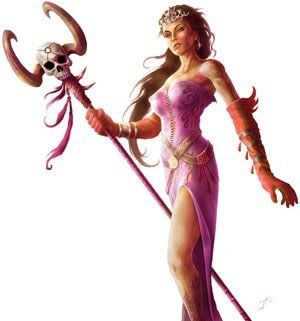 The Demon Princess of Shadow
Rhyxali is a female demon lord who rules the shadow demons. Unlike such princes as Demogorgon, Orcus, and Graz'zt, she maintains a low profile. Her servants run a brisk trade in both souls and information as they flit amid the infinite Abyss. She controls an entire layer, the home of the shadow demons, and does not covet a larger realm. Rhyxali seems content to gain more personal power by trafficking in secrets and souls. She delights in killing and deceit.
Rhyxali's layer of the Abyss, called Shaddonon, is a place of darkness. Within its dim twilight, nestled among forests of shadows, lie hidden cities full of outcast demons and rogue beings of all sorts. The main inhabitants, however, are shadow demons.
Few have seen Rhyxali's true form and lived to tell the tale. She is a tall, humanoid woman with jet-black skin. The color of her flesh, and the fact that she has six fingers on each hand, lends credence to the idea that she is related to Graz'zt—perhaps his sister. Neither speaks of the issue; they seem to have no special like or dislike for each other. Rhyxali's symbol is a jet-black dagger.
The Goals of Rhyxali
Shadow demons travel throughout the Lower Planes virtually unnoticed. As they do, they see everything and report it back to their mistress. Rhyxali sells some of this information to wealthy buyers (who pay in magic or souls) but keeps the best tidbits to exploit herself. Like night hags, shadow demons also trade in souls. Shaddonon's reputation as the Abyss's main soul-trading center draws many visitors willing to pay vast sums. Even other demon princes send emissaries to Rhyxali make deals.
Virtually all powerful demons call Rhyxali their ally even though many fear her ability to strike unseen, slay, and leave again unnoticed. None of them trust her completely, but she knows enough not to trust them either. Rhyxali has slight regard for the Material Plane or its mortal inhabitants. Mortals have souls and souls are a commodity; she thinks of them as little more than livestock.
Source: The Book of Vile Darkness Web Enhancement - Yet More Archfiends

Source: Expedition to the Demonweb Pits