Post by The Bard Darkharp on Jan 26, 2009 13:06:39 GMT -5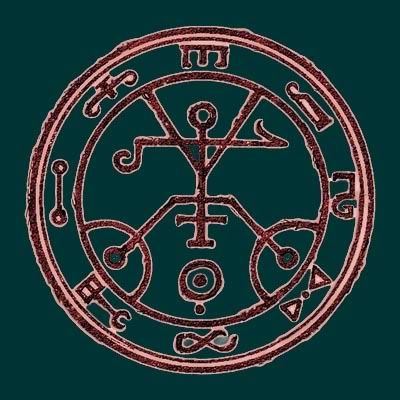 Baphomet
Prince of Beasts, Lord of Minotaurs
This hulking, manlike brute stands 20 feet tall. His muscular frame is covered in thick, matted black hair. His head is that of a fiendish bull, and his great horns are stained in the lifeblood of countless victims. Cloven hooves and a bovine tail complete his bestial appearance.
Cruel and bestial Baphomet is the patron demon lord of minotaurs, although his feral nature appeals to evil rangers and barbarians.
Servants, Enemies, and Goals
Baphomet is served by fiendish and half-fiend minotaurs, many of them possessing levels in barbarian, cleric, or ranger. His ability to cast awaken once per day ensures he always has a powerful ally such as an intelligent dire bear, dire tiger, dinosaur, or similar minion at hand. Baphomet is also served by bulezau and goristro demons.
A growing number of humanoid cultists have taken to his worship in poor rural areas. Desperate commoners sometimes turn to beast-cults organized by evil rangers who claim to venerate a nature deity who promises vengeance to those who have been wronged by the local government. These rangers call themselves the Temple of Redemption (or simply "Redeemers"). Rituals involving the decapitation of prize bulls are an important part of the Redeemer faith. It is said that those who listen at the mouth of a sacrificed bull can sometimes hear whispers of advice on how best to punish those who oppress the common folk. These whispers are, of course, the doubtful advice of Baphomet himself.
Baphomet has a complex relationship with Pale Night. The two demon lords share control over the same Abyssal layer, although Pale Night's influence doesn't truly extend beyond the vast plateau on which her castle is located. The two demons have never joined forces to accomplish a goal, but any attempt to lay siege to one of their holdings in the Endless Maze might result in the other coming to his or her aid.
Baphomet regards several other demon lords with particular hatred, especially Graz'zt (who imprisoned Baphomet for some time recently) and Yeenoghu (with whom Baphomet has been at war for eons).
Baphomet's driving goal is the destruction of his hated foe Yeenoghu. Neither demon lord remembers the genesis of this mutual hatred, but most of Baphomet's actions on the Material Plane are tied in some way to his war efforts against the Demon Prince of Gnolls, be it the harvesting of fresh souls to fuel his Abyssal holdings to the acquisition of potent magic items to be transported into the hands of his most powerful agents and generals.
Clerics of Baphomet have access to the domains of Chaos, Evil, Fury, and Strength. His symbol is that of a twisted circular maze awash in blood.
Source: Fiendush Codex I - Hordes of the Abyss
Source: Monster Mythology 2nd Edition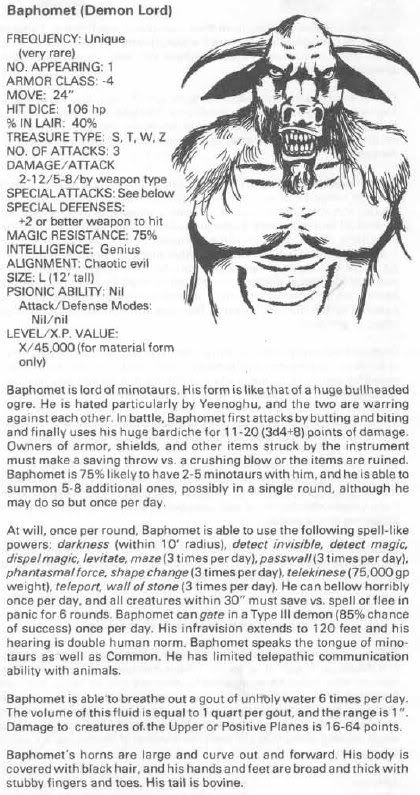 Source: Monster Manual II 1st Edition