Post by Warlord on Jul 9, 2019 16:14:52 GMT -5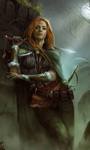 I believe this has been asked before, and I believe the answer was "yes, you can do Section B," but I couldn't find this addressed directly. Since it came up in a party, I thought I'd ask.
Moving this response here since it'll likely become a discussion!
Can we please consider the spirit of the rule vs. the literal rule?
If a PC doesn't gain a mechanic benefit going through the dungeon again, then I'd argue it shouldn't violate the rule? I don't remember the North VR design much since it has changed. One or two rat spawns or minor things is also peanuts compared to the layout of the overland areas people are forced to go through to access other dungeons far apart.
If I can piecemeal the dungeon with friends and not embellish on the mechanics then it just makes gaming more comfortable. We all got lives/jobs/kids/health to balance out. Why force a group to get more XP...sooner?
I've been around long enough to know how to time a dungeon crawl, but I sympathize for people not veteran enough to have this sort of foresight. I have this mental clock advantage to see a dungeon entirely as long as a group has the time and we're balanced. By the way, I think the North VR Crypt, and a select one or two others,
feels
deliberately design to split and navigate, but I guess it can be revisited 7 days later.
My one immediate concern is lower level starter dungeons when we hardball the rule to be more literal than in spirit. Attempting to complete the crypt dungeon on the hillside got a heck of a lot more winded...It may take as long as a standard
"underdark run"
at level 1 - 5 if you don't have a sizeable group to distribute the workload. That's a good example dungeon I personally piecemeal at lower levels, but then again, lower level dungeons don't often get as much scrutiny I suppose.
Cheers