Post by Always_a_hero on May 10, 2019 19:42:40 GMT -5
So I recently asked myself what would be plausible for a character remake if I wanted to change one of the base class(es). As the only rule I'm aware of concerning a character remake is the one or two remakes per year, I found (though I may be awful at searching info) nothing much more on the subject.
But instead of just making a post and having a DM quote the actual rule, I'd actually like to maybe suggest some sort of logic behind a way to change a base class with a remake. Though what I came up with will mainly be about the base classes, as Prestige Classes are IMO something you shouldn't change or at least try to keep a consistent RP. Plus, prestige classes have each their very own flavor.
A first detail would be a transition between non-caster, semi-caster and caster classes:
Non-Casters:
Semi-casters:
Casters:
Barbarian
Bard Cleric

Fighter
Ranger Druid
Monk
Paladin
Sorcerer

Rogue
Wizard

The base idea for this is how a non-caster cannot become directly a caster upon a remake, i.e. a character with Fighter levels shouldn't trade those levels for Wizard's. Simply put, it wouldn't make sense for a pure fighter to be able to cast 3rd or 4th circle spells overnight, unless the remake has actual context behind it. However, there are current exceptions relation to monk monasteries as well as paladin orders. An example would be how a monk can actually multiclass with sorcerer levels, under conditions in the server rules which usually implies a level ratio.

Other factors as well would be alignment restrictions as well as casting base stat. Following those lines, I'd get the following "allowed" transitions: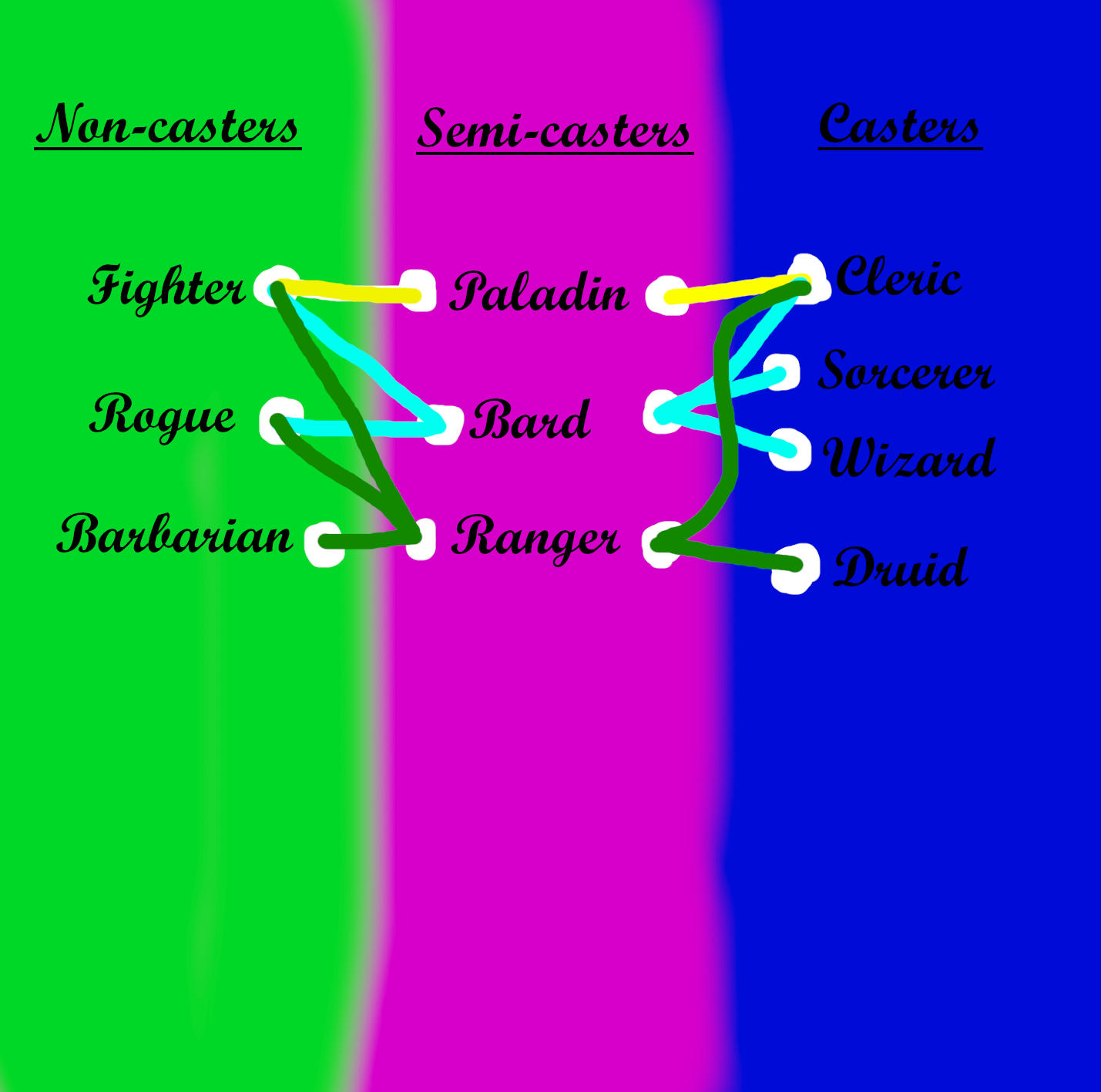 *Sorry if it's big and the text is hard to read. Sort of realized half way there it wasn't Arial text...
Anyhow, what I tried to make in this picture is to show what I believe would potentially depict linked class which could be switched, if needed, in a remake. Monk isn't included because of the monastery business. What I didn't include though is the potential trading between other classes in the same caster type category, i.e. fighter trading for rogue levels or barbarian, etc.
But in the end, I'm asking if those links are adequate or if there are some missing, and of course if it's related with the current set of mind the DM team has when considering a remake which include a change in base class.