Post by Retired DM Dark Herald on Sept 1, 2009 22:08:14 GMT -5
Xorvintaal - The Great Game of Dragons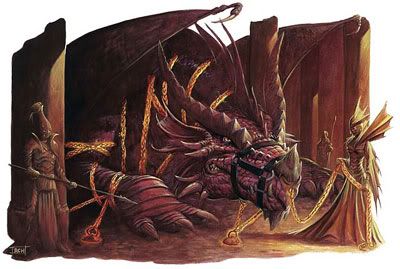 A few dragons, young and old, devote their lives to a competition called xorvintaal, the "great game." They scheme against their fellows, wagering their hoards and manipulating their minions like chess pieces. Sometimes those that don't directly serve a dragon find themselves caught up in the game.
Dragons choose to take up xorvintaal when they're young adults, drawn by the allure of besting their fellow dragons and the promise of vast treasure. But the great game demands commitment from its players. Dragons are proud and solitary creatures, so xorvintaal is one of the few ways a dragon can earn draconic prestige. Masters of xorvintaal are regarded as the finest minds among dragonkind.
To join the great game, a dragon must first research and perform the Ritual of Xorvintaal. The ritual requires the dragon to spend a month meditating in a magic cocoon. When the dragon emerges, it is forever marked as a dragon of the great game, having sacrificed its innate spellcasting ability for the ability to manipulate its minions, to interact telepathically with other xorvintaal dragons, and to gain power as it advances in the great game.
How Xorvintaal Works
Xorvintaal takes years to learn and centuries to play. Only dragons understand the finer points of the rules. At its heart, xorvintaal is a combination of chess and poker, played with the world as the board and "lesser" creatures as the pieces. Dragons use lackeys to take over one another's territories and hoards, but they must also place their own hoards and lairs at risk.
Xorvintaal has a feudal element as well, with older, successful players taking new players under their wings. A new player that does well earns esteem and influence for its older draconic patrons, and the older dragon earns a share of the younger dragon's hoard and of its future conquests. The rules of xorvintaal forbid dragon to-dragon conflict except under rare circumstances. Most players act subtly to divert attention from themselves, avoiding the direct ire of other players.
Because they join the great game through a transformative ritual, xorvintaal dragons are incapable of breaking the rules, but they have potent minions and the unusual abilities granted by the Ritual of Xorvintaal. They manipulate adventurers and other creatures to raid the lairs of their opponents. These pieces in the great game draw attention to themselves rather than to their manipulator. After a successful move, such pieces might find themselves the target of a more powerful xorvintaal dragon that had a stake in the defeated dragon's treasure and winnings.
The exact scoring and rules of engagement are not as important as the effects that you, as DM, want xorvintaal to have on your ongoing campaign. In most cases, the mechanics of the great game can be portrayed as beyond the knowledge of the PCs.
Those characters who manage to penetrate the mystery should receive evocative but garbled blends of maneuvers and strategy from any game you know well enough to speak eloquently about. Consistency and clarity should be your last priority—portray xorvintaal as a tortured mess of contradictory rules and exceptions that only a dragon with centuries to study could understand. Some ideas for PC-relevant moves for any xorvintaal dragon follow.
Castling:
Moving a xorvintaal dragon's personal hoard should be an incredibly complex maneuver, requiring years of preparation and multiple levels of fail-safe and counterstrike plotting. That's the impression some xorvintaal dragons like to give. So, how do a few players move their hoards so quickly, easily, and regularly? Are they moving into prepared positions? Are their networks of xorvintaal resources laid out across the world in a way that few if any rivals can see?

Claw Test:
On precise dates that only players of the great game can fathom, exarchs and unwitting agents of different players are maneuvered into prearranged locations. The engagement seems reasonable to each of the combatants at the time, but if anyone survives to investigate the true causes, the origins of the conflict quickly grow murky. Apparently, the winning player in these small contests is the player whose agents are deemed to have accomplished the most while possessing the fewest resources or least power.
Survivors of such arranged conflicts have a way of growing into positions of power that make them even better exarchs than agents who start with all the advantages. Would-be PC exarchs are sure to be involved in a claw test.
Seed Hoard:
One of the most aggressive moves in xorvintaal is establishing a new hoard in an area the dragon player doesn't intend to personally occupy. Relying on exarchs and pawns to protect this so-called seed hoard earns high points, especially if the seed hoard is near a rival player's personal hoard. Moving a seed hoard within the 10-mile radius in which a xorvintaal dragon can communicate telepathically with its own exarchs (see page 47) is a bold maneuver, leading to great losses if the rival can't locate and eliminate the seed hoard within a reasonable amount of time.
In the PCs' lives, a seed hoard creates an odd situation in which a dragon's hoard seems to be defended by everything but the dragon.
Seed Sham:
Some seed hoards are bluffs. Instead of consisting of an actual hoard, they are mixtures of bizarre traps and threats designed to cut away at the rival dragon's resources. Such trickery might be why xorvintaal dragons seem reluctant or unable to move directly to investigate curious happenings near their territory.
The best and highest-scoring seed shams are played in such a fashion that the target of the bluff should be able to figure out that the supposed seed hoard might be a bluff, using all the rules of the game. But calling a bluff that turns out to be a true seed hoard can have disastrous consequences, so lesser players are prone to using newly acquired and expendable assets to investigate questionable seeds. That sounds like a job for the PCs.
Source: Monster Manual V